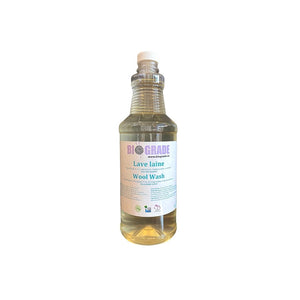 HYPOALLERGENIC, CONCENTRATED & BIODEGRADABLE
 
BIOGRADE's wool wash high concentration is designed to offer you a high-end cleaning for your delicate wool products. Efficient in cold and hot water, it dislodges dirt while being soft for fabrics, while preserving the most vibrant color on clothing.
NATURALLY CLEAN 

Certified non-toxic 
Biodegradable (in accordance with OECD test No. 301D or equivalent)
Non-carcinogenic
Phosphate & NTA free
Dye and formaldehyde free
Neutral pH
Extra gentle on skin

INGREDIENTS:
Water, sodium oleate (olive oil), polyglucoside, (glucose), natural extracts and/or essentials oils.
DIRECTIONS:
Use 25 ml per load of laundry. No need to rinse. It can also be used for hand washing wool garments and has a no rinse feature.